Female-Directed Movies That Are Sure To Scare Your Socks Off!
Here is a scary statistic: Only 5% of studio films, released in the past five years, have had a female director. AHHH!
So, what is a Bustie to do? Well, no worries, an amazing list of 50 Must-See Horror Films Directed By Women has been created by Alison Nastasi for Flavorwire for all you feminists out there trying to get your fright on this Halloween season!
The list is compiled of some older films like The Hitch-Hiker, directed by Ida Lupino in 1953:
As well as contemporary films, such as Carrie, directed by Kimberly Peirce in 2013:
One film that is definitely worth taking note of is The Babadook, a directorial-debut by Jennifer Kent, set to hit theaters November 28th. The film centers on a woman who, after just losing her husband, has to deal with her son's fear of a monster in their house (although something tells me this monster isn't imaginary). The Guardian recently referred to the film as a "clever, nasty, clammily claustrophobic chiller," and stated Kent's directing as having "a masterly control over this tense situation."
So whether it's at the theaters or on your couch, be sure to catch one of these female-directed flicks this Halloween!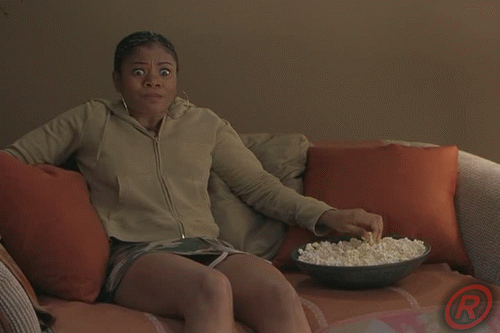 Image Sources: Mashable, Flavorwire, YouTube, Geekquality.com
New: Marcel the Shell With Shoes On Three!
The last time we saw our little friend he was talking about "treats and snoozin', snoozin' and treats" in "Marcel the Shell With Shoes On Two." That was three years ago! Can you believe it?
Fortunately for fans, Jenny Slate and her husband Dean Fleischer-Camp have graciously made a new video in celebration of their new book Marcel the Shell: The Most Surprised I've Ever Been (click through to see an exclusive spread from the book! buy it here!).
Watch the new video here and see Marcel sing a lovely song about friendship:
We're such big fans of Jenny Slate and Marcel here that BUST blog intern Susan even has a tattoo of the lil' guy!
Image and video via YouTube.
SNL Writer Leslie Jones Now a Featured Player
Surely you recall when, last year, SNL's lack of diversity reached critical (un)mass and much ado was made about show-runner Lorne Michaels' search for a fresh black female face to add to the cast. Leslie Jones was in the pool along with Sasheer Zamata, and though the latter was eventually recruited as a cast member, Jones impressed too, so she was culled for the writing room.
Well, Leslie Jones is officially moving out of the writing room and onto the stage as a season regular on Saturday Night Live, bringing the cast's diversity stats to 6 women and 6 people of color out of the 15 players -- and (more importantly?) bringing the show's humor stats up to an average of 3 chuckles, 4 snorts, and one big belly laugh per skit (we hope).
You may recognize her when she returns, Jones raised some eyebrows last season after appearing in "Weekend Update" and riffing on slave-breeding and the modern dating scene. Things have gone smoother in the show's 40th season. Last weekend, one skit featured Jones, along with Zamata, Jay Pharoah, and Kenan Thompson, as African villagers who are taken aback when a bearded Bill Hader (playing Charles Daniels) asks for donations of only 39 cents a day to help provide them with food, water and medicine. When they hear what Daniels is asking from viewers, the villagers urge: "Start higher!" It is not often that a skit on SNL features more people of color than white dudes (while simultaneously criticizing white dudes and the politics of ignorant do-gooders).
Jones' debut as a full fledged featured player is this Saturday night with host Jim Carrey.
Images and video via SanDiego.com and NBC
Susan Sontag Documentary to Air on HBO in December
At the end of our first decade without her piercing and original insight, Susan Sontag is being profiled in a new documentary that debuts on HBO December 8. In Regarding Susan Sontag director Nancy Kates, who reintroduced activist Bayard Rustin to US history in her previous doc, Brother Outsider, tracks the evolution of an outspoken and provocative political, literary, and social critic.
The film includes interviews with Fran Lebowitz, Noël Burch, Terry Castle, Lucinda Childs, Judith Sontag Cohen, Mark Danner, Alice Kaplan, Stephen Koch, Wayne Koestenbaum, Deborah Nelson, Darryl Pinckney, and Catherine Stimpson.
A prolific writer, Sontag developed theories on art, war, disease, and feminism in her novels, short stories, and essays. Works like "Against Interpretation" (1966), "On Photography" (1977), and "AIDS and its Metaphors" (1989) have never wavered in their relevance, and Sontag herself always maintained an essential position in American criticism -- "Regarding the Torture of Others," a reaction to the torture of prisoners at Abu Ghraib, was published in 2004.
Let's get back into Sontag this fall. Get a book club going: documentary edition. Sontag had solid ideas about everything. Regardless of whether or not you agree with them, everyone can take a cue from her delivery style: a strong voice that never suffered from uptalk, vocal fry, shame, or uncertainty.
Images and video via Annie Leibovitz, Marc Barrot, Peter Hujar
Get Physics Y'all with Megan Amram's Lady Science Video
If you caught our interview with comedian Megan Amram in the latest issue of BUST, you already know to save yourself the effort of learning "man science." Amram's new book Science For Her is coming out Nov. 4, and will simply explain confusing topics for anyone who has internalized the sexism offered up by years of socialization. The promo video has us salivating.
If you're not convinced, maybe a sweaty, kale laden Nick Offerman will do the trick.
Search
On Newsstands Now: Oct/Nov 2014
Trending on BUST