I've been curious about this truly old-school subculture trend, ever since I caught eye of some of it while in London last fall, and spotted a few people in my Brooklyn nabe wearing oversized Newsy caps, spats, and assorted other style paraphernalia from the 1920s and '30s. And now, I've found the proof that there really is a seemingly unlikely revival happening these days—of the Jazz Age! Back when I was a yoot, we kids made the trek out to god-forsaken Governer's Island to crowd-surf to Sonic Youth, Hole, and other grungy Lollapalooza bands, but last weekend, a much more refined crowd made their way to said island for a "Lawn Party" (Lawnapalooza?) where they, assumedly, sipped prohibition-era cocktails, sported flapper-dresses, admired the latest in model-Ts, and, generally, enjoyed themselves.
Ankle this way for more...>>
Taken together with NYC's burgeoning cocktail revival and London's "The Zeppelin" Gentlemen's club evenings (where even the women dress like tranny Barbershop Quartet members), and I think we've got the establishment of a genuine movement. But what is it all about? Sure, there's that awesome Jazz Age Slang and the fact that it would be more fun to have a beer with the Jazz Age than with the American Revolution, but what else is the particular appeal of this time in history— at this time in history? Please someone, anyone: start splainin!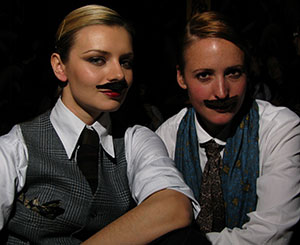 Tagged in: General
The opinions expressed on the BUST blog are those of the authors themselves and do not necessarily reflect the position of BUST Magazine or its staff.
blog comments powered by

Disqus
---