Posted by: Web Intern in General on Sep 09, 2009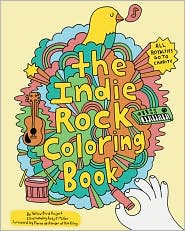 It has been awhile since I busted out my crayons to beautify a coloring book, but with the release of The Indie Rock Coloring Book this month, I may have to dust off my trusty Crayolas.

The book, whose collection of illustrations and activity pages where created by the talented Andy J. Miller, were inspired by some of today's most lovely indie rock bands (The Shins, Devendra Banhart, Clap Your Hands Say Yeah, etc). If that alone doesn't peak your interest, know that it was created to raise awareness of the Yellow Bird Project, which is devoted to 'bridging the worlds of music, art, and charity.' All profits from this book, as well as t-shirts designed by the indie artists themselves, benefit charities of the artists' choice. Such charities have included Art for Change, Free Arts for Abused Children, The Elliot Smith Memorial Fund and many more.

Check out the Yellow Bird Project's website to learn more!
p.s you can buy it on the YBP's site and participating bookstores.

nicole!
Photo courtesy of Barnes and Noble

Tagged in: General
The opinions expressed on the BUST blog are those of the authors themselves and do not necessarily reflect the position of BUST Magazine or its staff.
blog comments powered by

Disqus
---